Aaron Kennedy Selling Modern Farm in Boulder for $10m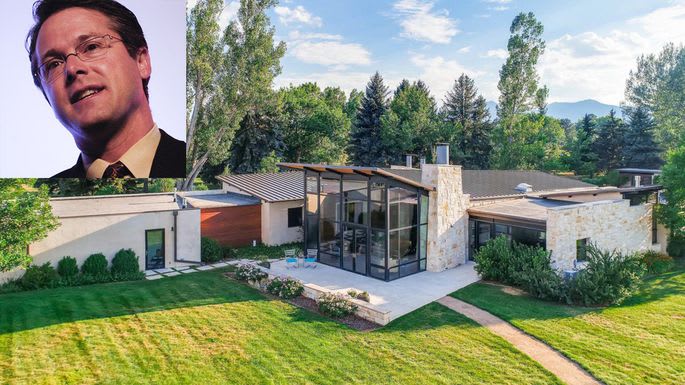 Noodles & Company founder Aaron Kennedy built a nationwide fast-casual dining empire after opening its first location in Colorado. Now he's selling his stunning, sprawling retreat situated just a few miles east of downtown Boulder, CO, for $10 million.
The home is a grand creation Kennedy and his family lovingly named Flapjack Farm. Built-in 2005, the solar-powered, four-bedroom, six-bathroom, 6,000-square-foot home is distinctly modern.
It doesn't overpower the open spaces on display from nearly every angle of the home's interior. The "modern rural" aesthetic, according to the listing, is a fresh, sophisticated interpretation of what a country house can be.
More than just an estate far from the hectic city, Flapjack Farm was designed to exist in harmony with the land it sits on.
"The architect camped out on the property to determine the best way to situate the home among the trees, while still enjoying the view across open space to the 100-foot sandstone cliffs along Boulder Creek in the distance," says listing agent Liz Benson.
The windows were precisely placed to allow the sun to heat the home only in the winter months, and glass doors at both ends of the stone hallway were aligned with the sunrise and sunset on both the vernal and autumnal equinoxes.
The 15-acre property comes with a quarter-mile private drive, one-mile path, pool and spa, pool house, and barn.
Kennedy, a former Pepsi exec before founding Noodles & Company, was raised on a farm in the Midwest. He used the home's open space to grow organic fruits and vegetables and even operated a nursery on the property, selling hundreds of oak trees planted on-site.
The noodle baron also worked on his golf game at Flapjack Farm, keeping a set of clubs out by the barn, according to Avid Golfer magazine.
Kennedy founded Noodles & Company in 1995, then stepped away from the day-to-day operations in 2008.
The brand has had recent setbacks, closing a number of stores as part of a wider restructuring. But on the bright side, the company is also opening stores in new markets hungry for the chain's signature noodles, soups, and salads.
And as the business he started undergoes a bit of reinvention, the entrepreneur is ready to follow suit.
"The Kennedys have put their heart and soul into the creation and caretaking of this unique property, but they are empty nesters now and ready for the next phase of their family life," says Benson.